The Library is excited to announce that we are holding a festival to kick off our summer reading program. The library has received a generous grant from the Massachusetts Cultural Council to hold this festival. We hope that it can become a yearly tradition. If you remember the Ashby Grange Fair of years ago, I hope that we can recapture the spirit of that Ashby tradition.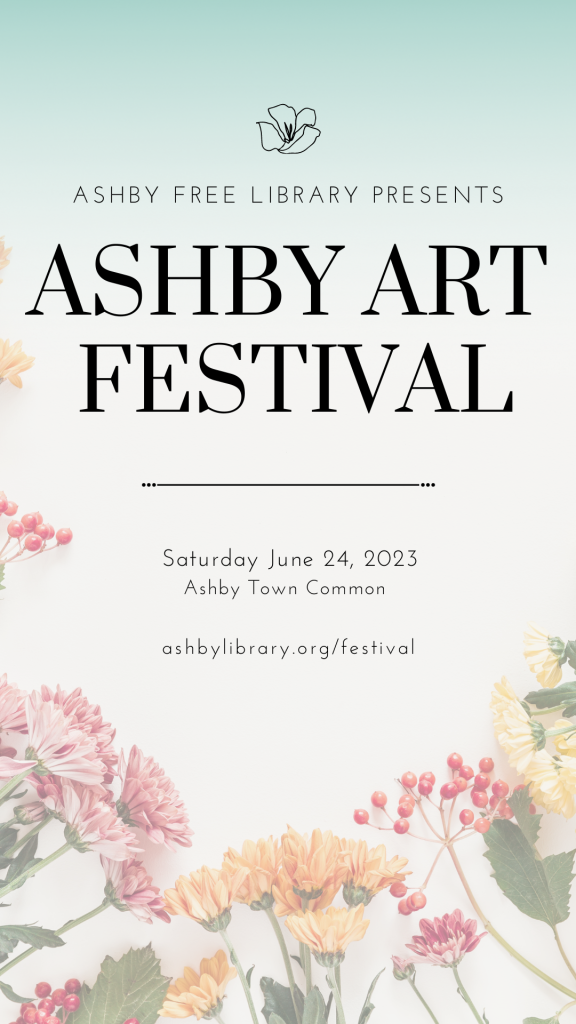 Ashby Art Festival
The Ashby Art Festival is a celebration of Ashby. Art is defined
as the application of human creative skill and imagination, so
the festival will celebrate not only visual art, but also writing,
performance and all forms of making. Ashby has a long
history in arts, agriculture, and creative manufacture, and this
festival intends to celebrate it all.
The festival will feature an exhibit competition where the works
of the children and adults of Ashby are exhibited, and creators
are recognized for their accomplishments. In addition to the
exhibit competition the Artists of Ashby and surrounding
communities will offer their works for sale and will talk to
festival attendees about their art and what it is to be an artist.
---
Past Events
Some past events are available on our Youtube channel
Ongoing Programming for Adults
Book Clubs
Each month we have a cookbook club meeting on the first Thursday of the month at 6PM, a non fiction club which meets on the second Thursday of the month at 6:30 PM and a fiction club which meets on the fourth Thursday of the month at 6:30 PM. See each club's page for more information about the current book and upcoming titles. We are always looking for recommendations for future titles.