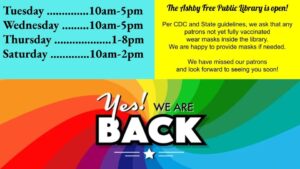 We've been offering Curbside Service for a year now, and we have served over 2500 patrons! As of Tuesday June 8th our doors are OPEN once again. We can't wait to welcome you back to the library!!!
Per CDC and State guidelines, we ask that any patrons not yet fully vaccinated wear masks inside the library. We are happy to provide masks if needed. 
Our hours for June will be: 
Tuesday 10am-5pm
Wednesday 10am-5pm
Thursday 1pm-8pm
Saturday 10am-2pm
We have missed our patrons and look forward to seeing you soon! Please call the library 978-386-5377 or email Tiffany at tcall@cwmars.org with any questions.
Tiffany Call, Director
Ashby Free Public Library
Summer Reading 2021 starts 6/17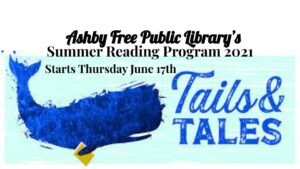 We're so excited to open our doors and jump into Summer Reading Program 2021, Tails and Tales! Be sure to check our Events calendar for upcoming dates and join us for our Kick-Off event on June 17th!
Teen Artists Wanted!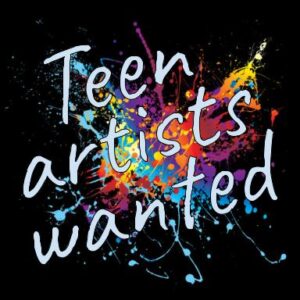 We have moved our Young Adult area to the lower level of the library! We're looking for Ashby teens to create artwork for the new space; canvases and paint will be provided. Please contact the library if you'd like to participate.
Time to Apply for Library Scholarships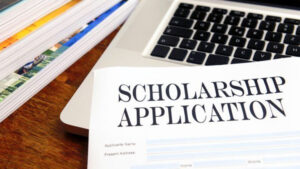 A COMMITMENT TO EDUCATION has been shown by several generous gifts to the Ashby Free Public Library for the specific purpose of providing scholarships for higher education. These scholarships are available to any resident of Ashby who has been accepted by an educational institution as a full time student (i.e. three courses carrying a minimum of nine credits).

Scholarships must be applied for yearly. There is a five-year eligibility maximum.

Applications must be received prior to June 30th. A single payment will be made the following January.

The scholarship amount is determined each year by the Library Trustees and is dependent on the trust fund income and the number of applications. Funds are distributed once a year upon proof of matriculation. This proof of attendance must be submitted by January 15th for the Spring Semester. Click here for more info.
Zoo New England Passes Available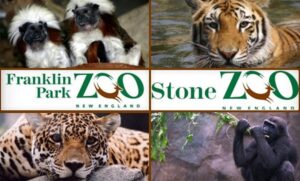 Did you know the Library has Zoo New England passes? Plan your visit to either the Franklin Park Zoo or Stone Zoo and be sure to stop by the library to borrow your passes giving you access to discounted tickets, $9 for adults and $6 for children.
We've expanded our Wi-Fi range!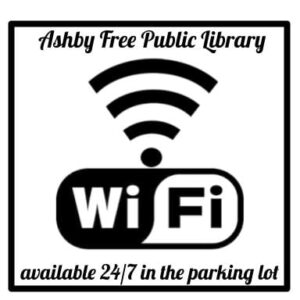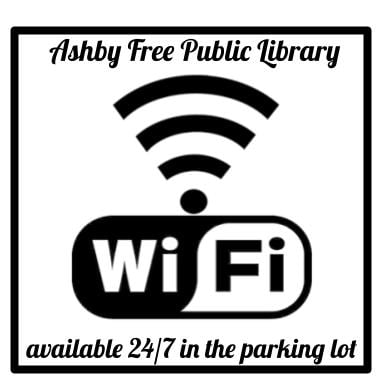 The AFPL's Free Wi-Fi may now be accessed 24/7 from the parking lot and benches out front! We also have laptops available for patrons to use while in the library, or borrow for a week to use at home.

AFPL Food Pantry Has Been Relocated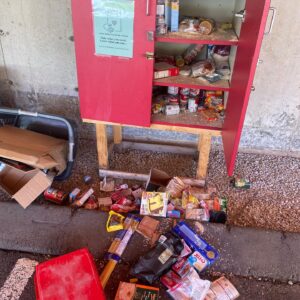 We have a bear! The AFPL Food Pantry has been relocated to INSIDE the library side entrance and will be available to access during regular library hours starting June 8th. Tuesday 10-5, Wednesday 10-5, Thursday 1-8, Saturday 10-2.
Download E-Books & Audiobooks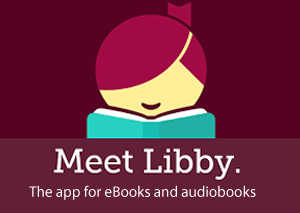 Did you know we have thousands of ebooks and audiobooks? You can borrow them, instantly, for free, using just the device in your hand. Get the Libby by Overdrive app for your phone or tablet!
For more information on ebooks, follow the link on the Resources page. 
Apply Online for an Ashby Library Card

New to town or just never had a library card? To obtain a library card you will need to fill out an application, and photo identification must be shown. Sign up online and begin enjoying the benefits of the Ashby Free Public Library. Fill out the online form here and we will send your card in the mail. 
available to all Ashby residents and any Massachusetts residents with the exception of those from towns/cities whose libraries have been decertified.
All out-of-state patrons will be required to pay an annual library membership fee of $30.00 per card. The annual fee will be waived for any out-of-state resident who works or owns property in Ashby – supporting documentation will be required.
Don't Let Your Library Card Expire! 

When your library card "expires" it's just a way for us to make sure we verify your current account information is correct. You do not need to get a new card, and it only takes a few minutes to update your account at the library. You should receive an email 2 weeks before your card expires. Expired library accounts can only be updated in person or by calling the library at 978-386-5377
Used Books

If you have books that are in good condition and LESS THAN 5 years old, we may be able to add them to our collection or sell in the Friends of the Library's Annual Book Sale. Please call the library to schedule a drop-off time. Books OLDER THAN 5 years old may be deposited in the Discover Books Donation Bin located in the library parking.  Thank you!
Become a Friend of the Library

The Friends of the Library is always looking for more active members. The Friends is under new leadership and looking for help building out the group. 
The Friends is a non-profit group of volunteers who support and fund the needs of the library's education programming. Sitting with Santa, the Pumpkin Festival and Summer Reading all occur because of the Friends. If interested in volunteering or learning more, check out the Friends page or come to the next meeting.
Volunteer Positions Available
The Ashby Library loves to have volunteers! We have opportunities for shelving, cleaning, and other indoor tasks, as well as landscaping and outdoor opportunities for volunteers to take advantage of. Contact the Ashby Library (978) 386-5377 for more info. Volunteering is a great way to give back to your community or complete community service hours.